The members live in all areas of New Mexico and come from varied backgrounds; they participate in a wide range of local, state, and national organizations. Each has a sincere interest in gaining knowledge of rules and procedures that can help to make for effective and productive meetings.
All members of the New Mexico State Association of Parliamentarians are also members of the National Association of Parliamentarians®. Each can also be a member of one or more of the local Units or, if they live great distances from the location of Units, they are Members-at-Large.
Membership in a local Unit gives each the opportunity to meet regularly with others to increase their knowledge of specific rules and procedures.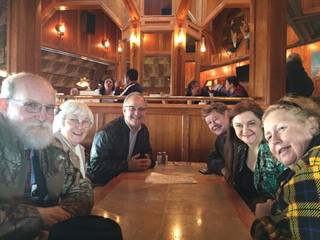 Membership in a local Unit
Persons who have indicated an interest in learning basic parliamentary procedure are invited to attend meetings of local units in Albuquerque and Santa Fe. The units meet monthly and conduct an educational program, free to the public, at the beginning of each meeting. Those who attend the unit meetings to be introduced to correct procedures are asked be provisional members and pay dues to the unit. Information on the Albuquerque Parliamentarian Unit and the Santa Fe Parliamentary Unit are available on the Local Units Page of this website.
Membership in the National Association of Parliamentarians® (NAP)
Persons who are interested in advancing their knowledge of parliamentary procedure are encouraged to become a member of the NAP. Those who are members of NAP are also members of the New Mexico State Association of Parliamentarians. NAP conducts a credentialing process for Registered Parliamentarians and Professional Registered Parliamentarians. Credentialed parliamentarians are hired by organizations to assist in planning and conducting effective meetings. For more information, check the website at www.parliamentarians.org